Livestock
Submitted by Anonymous on Mon, 04/26/2021 - 11:17
Livestock Events
BIF2021 Registration Open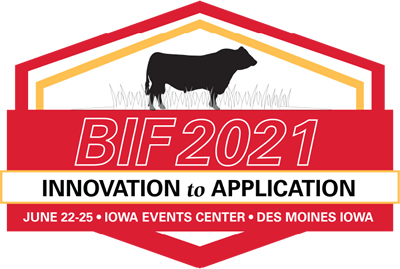 DES MOINES, Iowa – For the first time in two years, the Beef Improvement Federation's annual meeting and research symposium will be held in person. Dan Loy, Iowa Beef Center director and Iowa State University extension beef specialist, said ISU faculty and staff are excited to host this year's event, set for June 22-25 at the Iowa Events Center in Des Moines.
"We've been working for nearly two years on the program, speakers, tours and logistics of this great event," he said. "Especially because COVID forced the in-person aspect to be withdrawn in 2020, we know people are ready to gather for timely and useful information from experts and to learn about the Iowa beef industry through tours.
The symposium features two and a half days of educational programming and a full day of tours, with a special young producer symposium during the first afternoon.
General sessions are set for Wednesday and Thursday mornings, and panel discussions on a variety of beef production and genetic improvement topics begin late each morning and continue through those afternoons.
Following the second full day's sessions, attendees will attend an evening social and dinner at the Hansen Agriculture Student Learning Center on the ISU campus in Ames.
"We're looking forward to hosting the group and showing them the facility," Loy said. "It will be a great ending to the day's events."
Registration is open and hotel information is now available on the symposium website.
Early registration (May 14 deadline) is $345; $125 for students

Full registration (May 15 and after) is $395; $145 for students

Tours: $45, East Tour capacity is 52; West Tour capacity is 40.
The Iowa Beef Center at Iowa State University was established in 1996 with the goal of supporting the growth and vitality of the state's beef cattle industry. It comprises faculty and staff from Iowa State University Extension and Outreach, College of Agriculture and Life Sciences and College of Veterinary Medicine, and works to develop and deliver the latest research-based information regarding the beef cattle industry. For more information about IBC, visit www.iowabeefcenter.org.
For more information contact:
Dan Loy, IBC director and Iowa State extension beef specialist, 515-294-1058, dloy@iastate.edu
---
Swine Building Maintenance the Topic of Online Webinar Series
ISU Extension and Outreach is joining industry partners to offer a five-part webinar series on the maintenance issues faced by facility managers and maintenance crews. The sessions are geared toward livestock producers, livestock building owners and contractors, facility managers, maintenance crew members, engineers, designers and others interested in swine building maintenance.
Aug. 19 - It Is Your Concrete Pit as Well.
Aug. 21 - Maintenance of Concrete Pits and What to Look For.
Aug. 24 - Gable End Attic Air Intakes for Roof and Moisture Management.
Aug. 26 - General Maintenance Tips for Swine Buildings.
Aug. 28 - Building Truss Management.
Each session is offered from 1-2 p.m. CDT by Zoom videoconference.
Registration is $20 and includes all five sessions. Advance registration is required to participate and must be completed by midnight, Aug. 17. Payment is online with credit card only.
Online registration and additional information is available at www.aep.iastate.edu/building. For questions, contact ANR Program Services at anr@iastate.edu, or contact your regional Iowa State University Extension and Outreach agricultural engineering field specialist.
Agriculture and Natural Resources has many resources to help Iowans. Get a list of them all here.
Statewide Resources
Enhancing Dairy Profits and Quality of Life

Works to promote efficient pork production technologies in Iowa, maintain Iowa's pork industry leadership and strengthen rural development efforts.

Working to develop and deliver the latest in research-based information to improve the profitability and vitality of Iowa's beef industry.

To add value to the egg industry by facilitating research and learning for egg producers, processors and consumers through national and international collaboration.

Your link to Master Equine Manager, Grazing News, and information on educational opportunities throughout the year.

Bringing the benefits of veterinary medicine to society by promoting animal welfare and public health through the on-going education of veterinarians and the dissemination of animal health production, food safety and animal welfare information to veterinarians, livestock producers, consumers, and related clientele.

Comprehensive information on manure management, research and application for Iowa.

Information on livestock housing systems, general construction and ventilation and animal environment.

The Agricultural Marketing Resource Center is an electronic, national resource for producers interested in value-added agriculture. Browse commodities and products, investigate market and industry trends, study business creation and operation, read research results and locate value-added resources.

Agricultural economics and business resources to help make sound management decisions for your business or farming operation.

The Value Added Agriculture Program (VAAP) provides unbiased, science-based information to help establish or expand agricultural-related businesses in Iowa.

Specialists have compiled a list of resources to help you prepare for and recover from natural disasters. Remember to take care of yourself and your family first; then deal with the things lost to the disaster.
Publications and Materials
Staff